Again! Again!
Again! Again! is a mail order zine distro, again.
Selling zines, art and other things, mostly by me but maybe from friends sometimes.
All prices cover postage in Australia.
Contact me
for postage outside Australia.
Phonemes
Printed by Helio Press, Melbourne, in 2019, these are unlimited editon prints of a series of collages I made c. 2009 called
'Phonemes'
. They are Risograph (soy ink) on A3+ (329 x 483mm) news print paper.
These are non-archival prints and the paper will likely deteriorate and yellow over time, especially if exposed to direct sunlight. Cost is per print, postage paid. Will be posted rolled-up in a tube.
Bridges
Bridges is a zine series I started it in 2018 with the following rules in mind:
I will write an issue whenever I feel like it, but at least once a year.

The zine will be given away for free.
The writing in an issue must fit on one double-sided, A4 sheet of standard recycled office copy paper.

The writing in the zine should be set in either Helvetica Neue or Arial.
The zine should have the date and my name and address written on it somewhere.
The zine doesn't need to be illustrated.
The zine must be reproduced by photocopying.

Each issue of the zine must contain reference to one of Sydney's bridges and be named after that bridge, but does not necessarily have to be 'about' that bridge.

The zine does not have to be 'about' anything.
I won't resist letting the zine be about my memories of being from Sydney. Nostalgia will kill you, but that's OK – we all die from something.
Each copy of an issue of the zine must be folded and sealed in an envelope decorated with some sort of printing technique.

Break any of these rules sooner than not make the zine at all.
Bridges #6
Tom Uglys Bridge
Monday, 7 February 2022

I walk around Paddington; my computer dies; I visit an old friend, eat sushi and obtain a zine suitcase; Hurstville; my dad falls of his motorbike; I dream about camping in the Royal National park, waking to the sounds of waves and fairy wrens.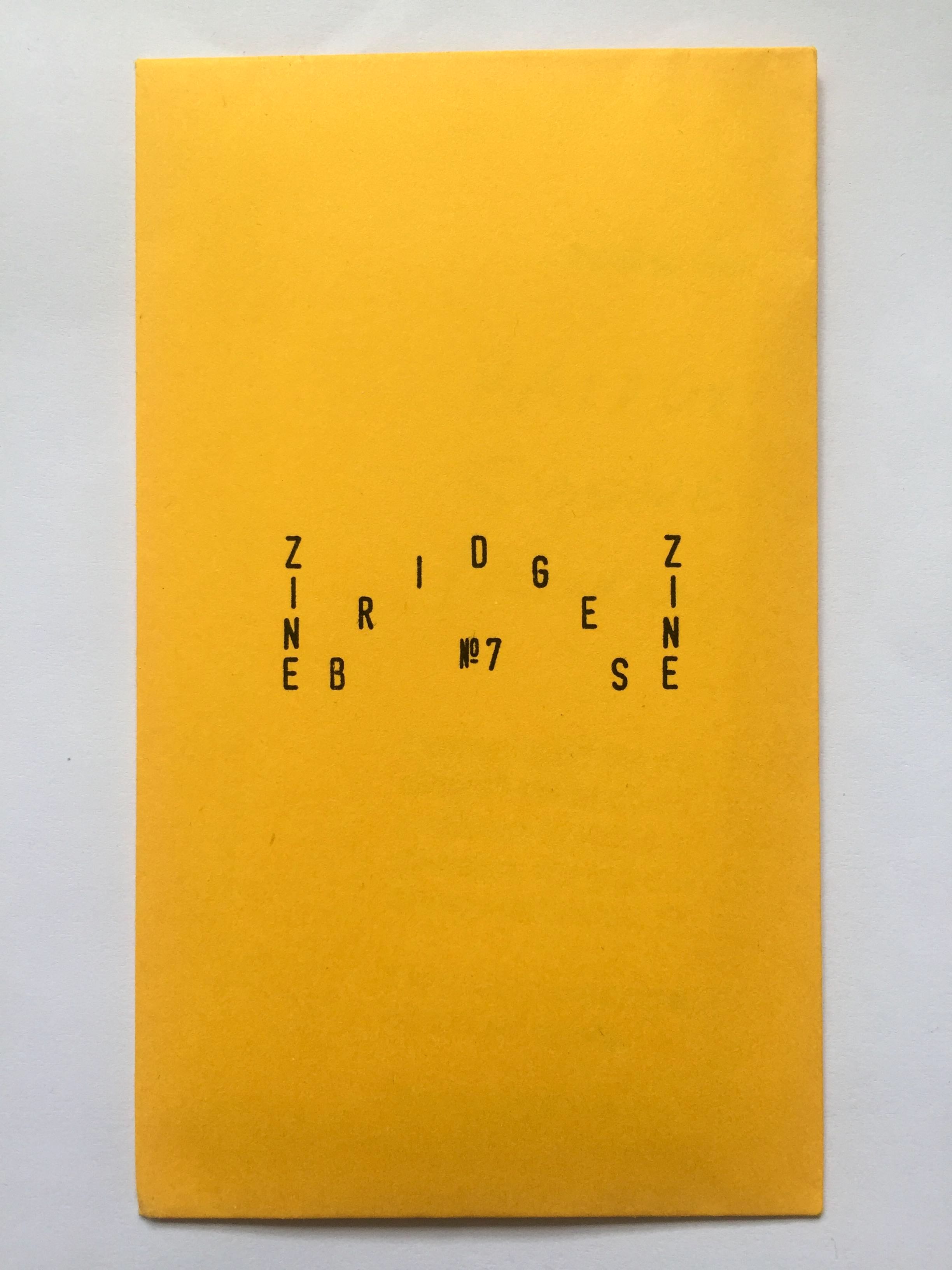 Bridges #7
Sydney Harbour Bridge
Monday, 7 February 2022

I walk across the Sydney Harbour Bridge; write about the Royal Hospital for Women, Paddington, which no longer exists; think about Mikala Dwyer's egg swing; visit a friend at their new place; imagine a perfect sunny day off; get told I can't go to the beach anymore; there is a fatal shark attack at Little Bay.



Bridges #8
Footbridge over Cooks River (sic), at the end of Lang Rd, Earlwood
Written over several dates in 2020, '21, '22

Blu Tack Gallery; the footbridge was gone; how many times I've walked up Wardell Rd; the strangest thing that ever happened in Earlwood; a thing I've been thinking lately; Sally Potter's adaptation of Orlando; short point on the commodification of culture and the availability of stove-pipe jeans at the turn of the millenium; a handsome young man named Bastard; through Redfern in the night; knife; every man I've ever had anything to do with has been at least a little bit bad to me; Glenn fucking hated buckwheat pancakes; War on Terror; protests against Iraq War; Bastard (refrain).



Bridges #9
Special guest bridge-like structre: Wolloomooloo Rail Viaduct
Monday, 23 May 2022

For this issues I did a RAT, didn't test positive for COVID-19, and wrote some stories about a few of the human connections I realised I'd made while working in a post office, 7 years after the fact.




A zine written in September 2021, for the final mailout of Other Worlds' Subscription Quarterly Annual Mailout (S.Q.A.M.) by Anny Nonny Mouse i.e., me. Coming out of a long, cold, hard, heartbreaking/eviscerating winter of discontent, dis-ease, dis-trust, disaster, and dumb, dumb, dumb, human/animal emotions. But rather than address these directly, I discuss Ursula K. Le Guin's favourite breakfast as a way of remembering who I am; recall all the lawns I've typed zines from; recall living in Marrickville as a youngster, and recount a conversation with my brother (and redact most of it); photocopy a number of portaits of me taken by others, and think (but don't write) about selfies; and write a poem for all the major bridges in Sydney.

"Nobody's perfect / and their needs / are / al- / -ways / stark." (the Drones, 'Why write a letter that you'll never send').