2021
Open the window; open the door and Typing pool

22 June – 6 June and
4 June – 6 June
Kogarah library exhibition space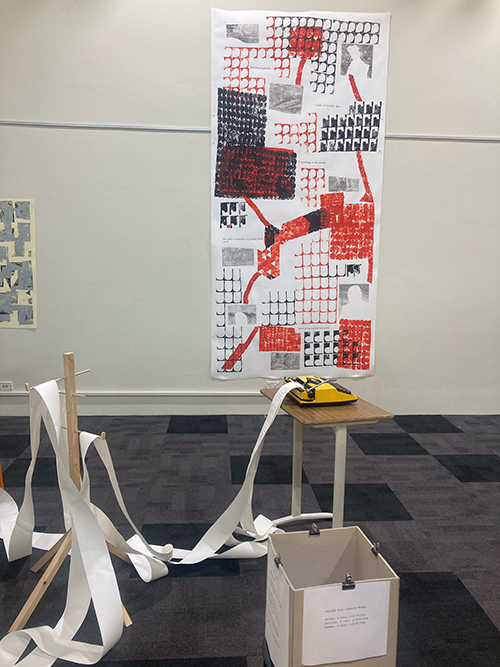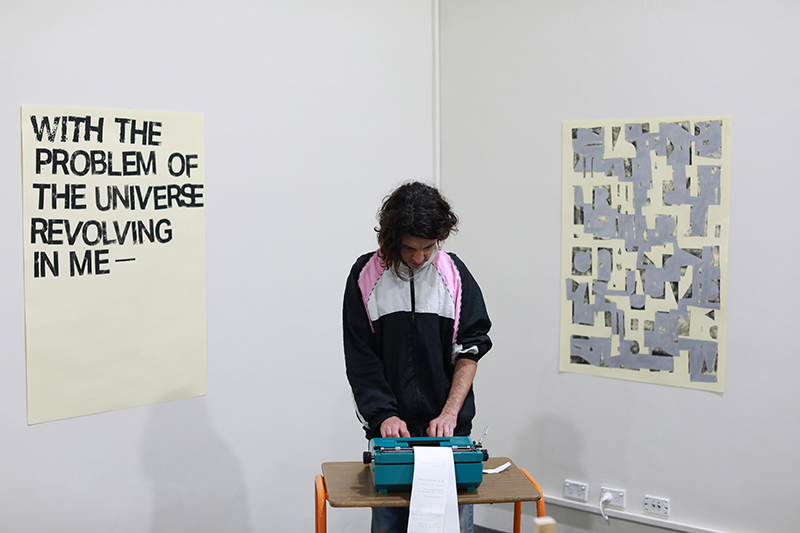 This iteration of
Typing pool
was installed in the Kogarah library exhibition space for the [Un]contained Festival. I looped a continuous piece of paper through three typewriters (teal Olivetti; yellow Adler; orange Brother), and asked festival-goers to help me transcribe found text onto the loop.
Instructions:
Randomly choose a piece of text from the box.

Transcribe the text onto the paper loop, using one of the typewriters (up to three people can type at once).

When you have finished typing, put the text into your pocket.
Repeat these steps as many times as you like.
Typing pool artist statement.
Accompanying Typing Pool,
Open the window; open the door
consists of prints on Torinoko paper and paper rolls, which I made while
artist in residence at Carss Park
in late 2019.
Well I wonder / A map that interrupts itself

22 May – 6 June
Kogarah library exhibition space


"The work in these cabinets dates from when I was a student at Sydney College of the Arts, researching my Master of Fine Arts (2009–10). During that time, I collected a range of found text and images, which I used as the basis for zines, artist books and installations. I present this work here as an insight into how my work has developed over the past decade."

2021 projects
June:
Typing pool for
[Un]contained Festival
Well I wonder/A map that interrupts himself and Open the window; open the door, Kogarah library exhibition space
I live and work on Gadigal and Gundungurra Country.
Sovereignty was never ceded.